Round Wire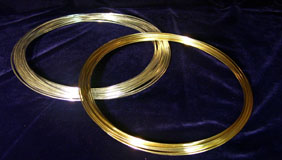 10K

Yellow

& White Gold
24K Fine Gold
14K

Yellow

, White,

Green

, &

Pink

Gold
Palladium & Ruthenium-Palladium
18K

Yellow

, White,

Green

, &

Pink

Gold
Platinum & Iridium-Platinum
22K

Yellow

Gold
Fine Silver & Sterling Silver
Approximate weight per foot. Karat gold in pennyweights (dwt) - 24K gold, gold filled, and silver in ounces (oz)
GA
IN
MM
10K
14K
18K
22K
24K
Platinum
Palladium
14/20 Gold Filled
Sterling
Silver
Argentium
Silver
Fine Silver
2
0.257
6
3.41
3.450
4
0.204
5
2.14
6
0.162
4
30.74
34.70
40.60
2.52
56.00
31.20
1.36
8
0.128
3
19.00
21.40
25.60
1.58
35.20
19.70
0.73
0.85
0.85
0.860
10
0.101
2.5
11.90
13.50
16.10
18.71
1.00
22.20
12.40
0.46
0.53
0.53
0.540
12
0.080
2
7.50
8.50
10.10
11.80
0.63
13.90
8.00
0.29
0.34
0.34
0.340
14
0.064
1.5
4.72
5.33
6.36
7.37
0.39
8.70
4.90
0.18
0.21
0.21
0.214
15
0.057
3.74
4.23
5.04
0.31
6.90
3.90
16
0.051
1.25
2.97
3.35
4.00
4.68
0.25
5.50
3.10
0.11
0.13
0.13
0.135
17
0.045
2.35
2.66
3.17
0.20
4.36
2.44
18
0.040
1
1.84
2.06
2.42
2.88
0.16
3.46
1.94
0.07
0.084
0.084
0.085
19
0.036
1.48
1.67
1.99
0.12
2.74
1.53
20
0.032
0.75
1.17
1.38
1.58
1.84
0.10
2.18
1.22
0.045
0.053
0.053
0.053
21
0.028
0.93
1.05
1.25
0.08
1.73
0.97
22
0.025
0.625
0.74
0.83
0.99
1.12
0.06
1.37
0.77
0.028
0.033
0.033
0.034
23
0.023
0.66
24
0.020
0.5
0.46
0.52
0.63
0.72
0.04
0.86
0.48
0.018
0.021
0.021
0.021
26
0.016
0.29
0.33
0.39
0.46
0.02
0.54
0.30
0.011
0.013
0.013
28
0.013
0.21
0.30
0.015
0.34
0.19
0.008
30
0.010
0.13
0.18
0.009
0.21
0.11
0.005
Odd gauges and blank spaces are non-stocked items.
Also available in special shaped silver wires.
WIRE TEMPER
Round wire is supplied in coil form and soft tempered unless requested otherwise. Hard temper wire is annealed and drawn hard through four gauges and is provided in 14K yellow gold stock sizes of 10, 12, and 14 gauge at no extra charge. Additional charges apply for other requested sizes and materials.